A couple of Sundays ago, the Nagarjuna Buddhist centre in Kelmarsh held their annual World Peace Fête. It's only a couple of miles from where we live, so I went along to promote Well Spent Days coaching.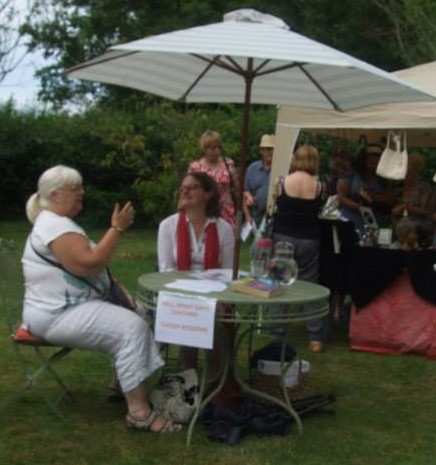 As you can see I brought our garden table, umbrella and chairs so it was quite a home from home :).
I'd prepared some leaflets giving a brief outline of what my coaching is about – relaxed, laid back block busting to help clear the path to a calmer, more peaceful mind and life.
Available on my narrowboat or by phone or Skype. 
There was a variety of different stalls – therapies like Shiatsu and also free meditation sessions. And delicious looking vegetarian food, although as my lovely friend had brought me a packed lunch I didn't sample any.
I'd never done anything like this before so was quite nervous. My friend came along for moral support, but I needn't have worried. Quite a few people approached the table wanting to find out more and I thoroughly enjoyed chatting to them.
The woman on the next stall, as well as selling beautiful vintage items, was offering psychic readings  for £15.
There was a big demand for the wisdom of the spirit world.
But then, something she didn't predict.
A storm was brewing and many of  the tents, umbrellas and gazebos were whipped up and out of their moorings. My friend and I huddled under one of my big umbrellas until it passed.
She then went off for her psychic reading and David arrived to help me pack up.
It had been an enjoyable first experience of promoting myself in public and one I'm looking forward to repeating. Preferably minus the storm!
Thanks to Nagarjuna Buddhist Centre, Kelmarsh for the photo.