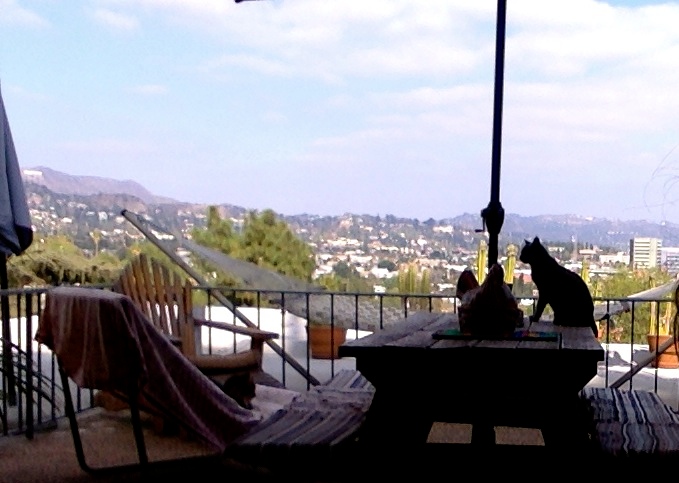 My first evening in LA was heaven, even though I was dog tired. I got to sit on my host's outside terrace with a glass of red wine, while her friend made a delicious salad. There was an incredible view of the city by night and she had lit scented candles and strung fairy lights from the potted palms.
The two friends, one of whom ran a farmer's market (right up my alley), talked about the merits of Botox and people who complained that they couldn't park their cars close enough to the market – and these people meant CLOSE.
You probably know how it is in LA – everybody drives. I asked about a place I could see way up on the horizon of the vista I was seeing from the balcony.  It was the Griffith Observatory. My host said she sometimes hiked there and it took about an hour. She promised to drive me to the nearby junction of Sunset and Hollywood Boulevards where I could have breakfast and then take a stroll to the Observatory.
I sat outside a French restaurant. It was a gorgeous warm day.
Still jetlagged I chose a pizza, which was rather unwise, as the coffee I ordered came with a bread basket, butter and jam. Pretty hungry, as it was midday and I hadn't eaten yet, I ate some bread and jam and left the rest on the pavement end of the table.
Soon after, a homeless guy passed the table and asked if he could have a piece of bread.
I decided it couldn't hurt for him to take one piece of bread, so indicated for him to help himself. He did take one piece but then reached over and grabbed the jam and clumsily spread it on the bread with his fingers. At the same time the waitress came over and grabbed the bread, and told him to scram. Seeing his look of dismay, she changed her mind and offered him the whole basket. "I don't want your fucking bread!" he cried, thrust the basket back at her and slouched off indignantly.
So much for a low profile brunch. Everyone on the terrace was staring. After struggling with the enormous pizza – I'd forgotten about US portions, and didn't expect them at a French style restaurant, I decided to continue on my way. I refused the box, "to go". I had my pride too, and didn't want to be seen "hiking" with a pizza box under my arm.
After leaving the area lined with shops and restaurants and approaching a more residential road, there appeared to be no one on foot except me.
It was a case of mad dogs and English women go out in the midday sun. Thank goodness the mad dogs had stayed at home. The road got steeper but I pressed on. Cars and trucks sped by,
I lost confidence in my ability to make this walk, even though it wasn't that daunting. It just daunted me that no one else was walking. I was cheered by a fabulous view of downtown LA, I guess it was Hollywood Hills type terrain, with dry red earth and enormous pine trees.
Then the path ran out and it was just road. That seemed like the last straw and a signal to turn back. Although I'd made the trip to the US alone, I'm no female Bear Grylis. The road was not particularly wide and a car coming round the bend at speed may not have been able to see me, and wouldn't be expecting a crazy English woman actually walking to the top.
But the road wasn't that busy. Was I that much of a wuss? No I wasn't, I pressed on.
And was soon rewarded by the path reappearing and the sight of the beautiful, temple like Griffith Observatory at the top.
We are often tempted to give up when things look tricky, but the rewards we seek may be just around the corner.